Websites For Exceptional Chiropractors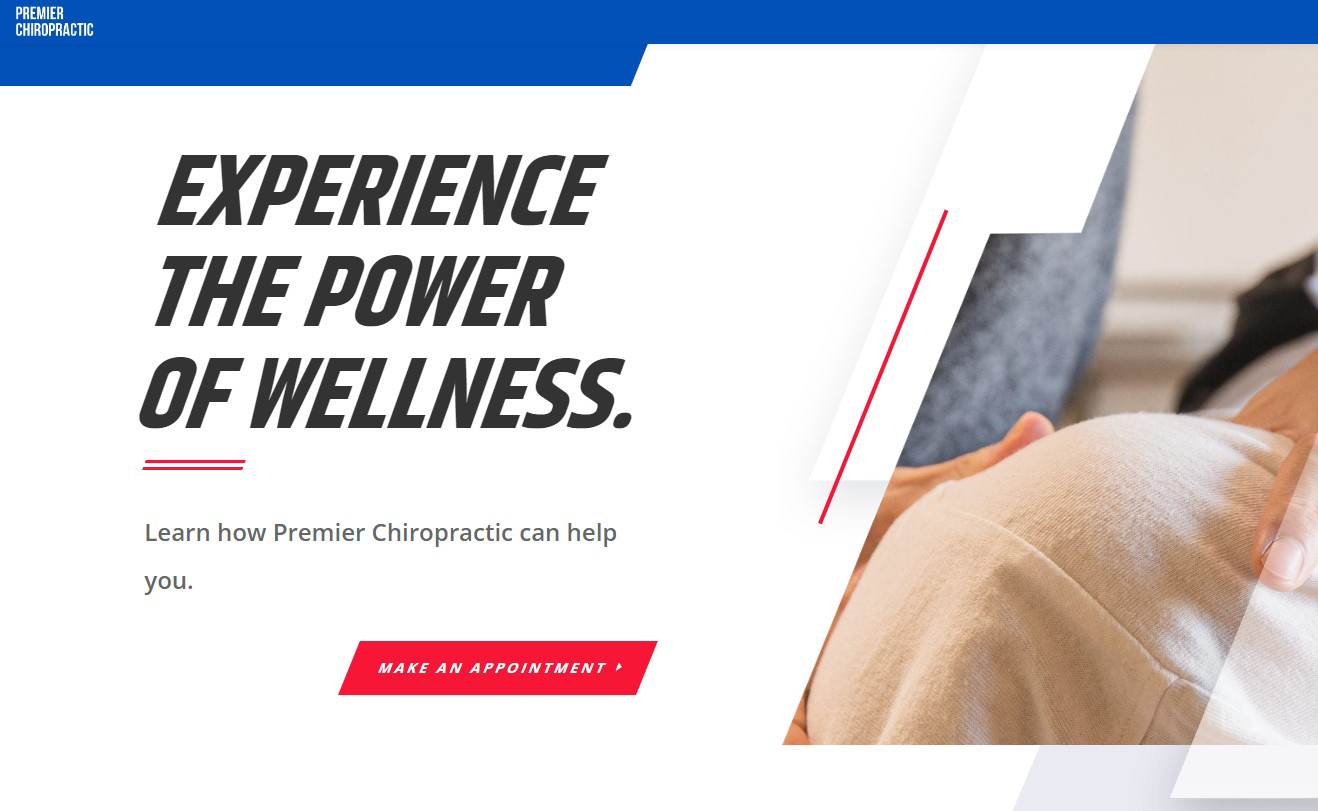 Angular approach to design with bold colors and eye-catching images. Suitable as a single-page or multi-page design.
Coming Soon.
Colors are for demonstration purposes only. Each design can be any color you want.
Design disclaimer: ChiroPage's model is that of a "Work for hire" service. We will use existing technologies (which ChiroPage has paid to license) to create a website on your behalf which you in turn own the rights to, and the copyright for, aside from that which belongs to the software creators and designers whose work we have licensed. Licensed work remains the exclusive copyright of the license holder. ChiroPage is a licensee, not creator or author, of several software and design components which comprise our service. Your ChiroPage fee includes website hosting as well as the right for our agency licenses to be used on your website as long as the website is hosted within our web hosting environment. Should you transfer your website to another hosting platform, you own the website and may take it with you but must purchase your own licenses to all necessary components. Our support team can happily assist with this transition.
The Simple, Straightforward Approach To Chiropractic Websites
We are all about simplicity. Choose a design. Provide your info. We build it. Then you just email us anytime you need something changed. All for one amazingly low price.
We pride ourselves on prompt email responses. Our team is always connected during business hours and ready to serve you. In order to keep prices low, we do not staff phone lines or offer callbacks.
Some website packages offer "unlimited" edits with a long list of restrictions on what isn't really included. Not here. Need a new page set up, want to start blogging, or have a new service to integrate? No problem.
Websites are monitored 24/7 for uptime and security. Our web server is in a secure underground datacenter located in Missouri with redundant data transfer links and off-site backups/vault storage keeping your website safe and secure.
Simple Pricing
Unlimited Updates

Responsive, Friendly, Email Based Support

Integrations Welcome (Facebook Pixel, Google Analytics, ReviewWave, ChiroTouch, etc.)

Daily Backups

SSL/HTTPS

Industry-Standard Web Firewall
Frequently Asked Questions
What is your contract length?
We are a no-contract service. We bill monthly and you are free to cancel at any time. Billing is managed through Square and you can access your billing account from a link on your emailed receipt, or you can contact us for assistance.
Do you offer email accounts?
We offer up to 10 free forwarders if we manage your domain registration or DNS. You have to contact us to request them and we manage them for you; there is no dashboard to make edits to forwarding settings. For paid/premium services, we suggest Pobox.com, Hushmail, or Google Workspace.
Do you offer SEO, reputation management, or reviews tools?
We do not have an in-house solution for this, but this is by design. Yext is one of the top names in the industry and we recommend their services. We are happy to integrate with Yext in any way needed.
We are also happy to place tracking codes for all the major search and social companies, such as Google Analytics and Webmaster Tools, Facebook Pixel, and so on. Sign up for your own free account and send us the codes.
Who is Chiro Page?
ChiroPage was founded by an association of web development industry professionals seeking to fill a void in the chiropractic website industry, combining prompt and expert service with low costs. Our editing team is comprised of skilled WordPress editing freelancers in the eastern and central U.S. who share one common goal: shaking up a niche website market that is often known for its loopholes and "gotchas". We believe in doing things well the first time and being reliable.
Do You Really Not Have A Phone Number?
That's right. In order to keep our prices low and because our team is comprised of independent freelancers, some of which serve many clients in a variety of industries or work other jobs in addition to editing for ChiroPage, and none of which work out of a common/shared office space, we have chosen to not staff phone lines at this time. We do offer support by text message to existing clients by request.
Do you offer stock text, blog, or video content?
We do have a library of stock images which we may use at our discretion if you don't have a particular image needed to fill a specific space on the website design, but we prefer to use and feature your content whenever possible. If you have a license to a video provider such as ChiroNexus, we're happy to integrate the videos.
Other Questions/Comments?